"Figurenrede: Kalte Nadel" is part of the work "Figurenrede: Kunst_Datei – Datei_KünstlerIn" by Suse Weber as part of the exhibition "Features–10 Sichten auf Berlin" and of the event series "Nikolai-Musik am Freitag"
Ausführung in Kooperation mit der Erarbeitungs-Gemeinschaft (Überarbeitungs-Gemeinschaft) MULTIHYBRID.
Performance
Score zur Performance am 20.11.2020 im Stadtmuseum Nikolaikirche, Berlin
Edition
Film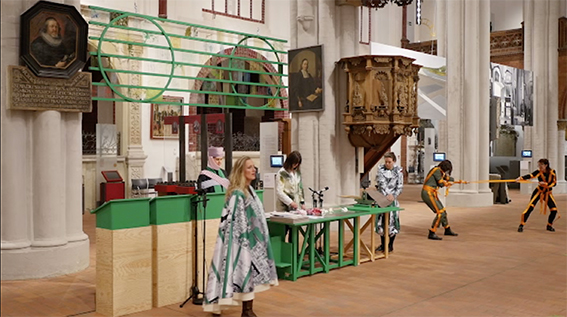 Figurenrede. Kalte: Nadel, Berlin 2020
Sonderedition (Auflage 3), Video 9:04 min
Kaltnadelradierung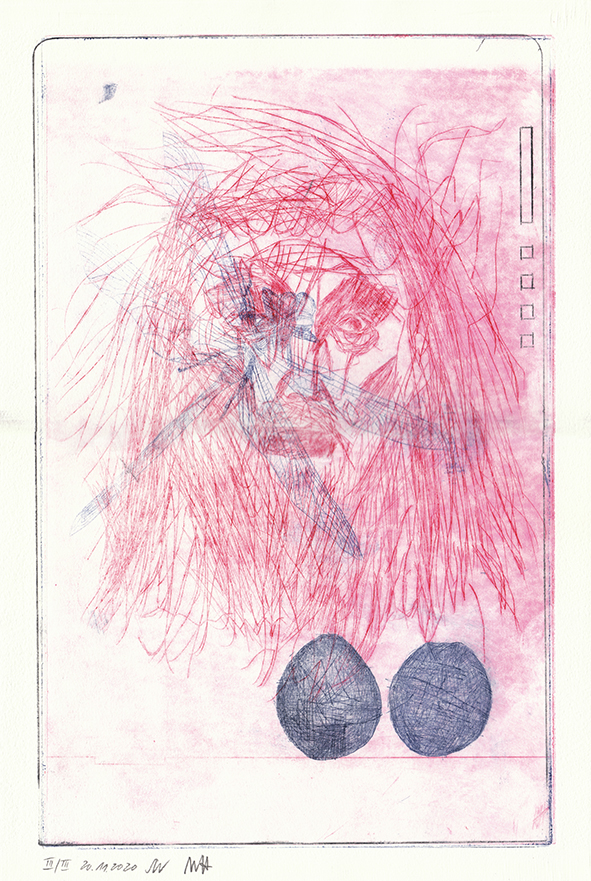 limited edition originated during performance (3), 20 x 30 cm
Beschreibung: Es handelt sich dabei um Überlagerung von 5 Kaltnadelradierungen. Gedruckt wurde während der Performance im Stadtmuseum Nikolaikirche am 20.11.2020 in Berlin.
Material: Etching ink Aqua, Charbonnel auf Echt-Bütten Karton, 230g, Hahnemühle
Signatur: Die Abzüge sind von allen Performerinnen auf der Vorderseite signiert. Auf der Rückseite befindet sich ein Stempel der Studio//Bühne Berlin.
Credits
performance concept: Suse Weber;
realization: Suse Weber in cooperation with the elaboration community "Das Multihybrid",
costume-object-props: Suse Weber;
realization costume-object-props: Suse Weber, Sabine Reinfeld, Ann-Kathrin Grangott, Dominique Brunke,
camera: Aida Kadrispahic;
camera assistance: Jolan Behrens;
sound direction: Cassis B. Staudt;
audio recording: Benjamin Stange, Cassis Staudt;
production assistant: Ava Helen Weber;
vocals: Barbara Ehwald;
film editing sequence 1: Suse Weber
drypoint etching: limited edition originated during performance
special thanks to: team of the Stadtmuseum Berlin
financially supported by Stiftung Kunstfonds Bonn: